working with dancing
_ gestaltdancing
_ choreography
_ dancing outside
---
painting
---
writing
_ poems
_ interviews
---
bio
---
contact
---
legal notice
data protection


deutsch / francais
curriculum vitae

christine kühnen, *1957 in rostock, germany, has been living in freiburg since 1975.


1982-85 resumption of the impulse of dancing, beforehand ballet: desire for my own compositions, new styles of dancing, participation in workshops, projects of three months: improvisation, contemporary dance, ci-contact improvisation, performance: freddie long/john lefan, s.f. usa/ georgo peugeot/ sara shelton mann/ byron brown/ whoopy goldberg, s.f./ kirstie simson/ katie duck, uk.

1983-85 for a better understanding: three years of formation in 'gestalt' according to f.s.perls with katharina martin, freiburg and as art always searches for its limits anew

1984-86 singing lessons with alrun förtig, freiburg

2001-2005 painting with susi juvan

in the center since 1985 the development of GESTALTTANZ upon which everything comes together:

performances, courses, projects in dancing nationwide: freiburg, göttingen, bochum, würzburg, bremen, bielefeld, köln, berlin, hamburg, nürnberg. theatre, techniques, assistance in direction: solo programs of the actress lisbeth felder, freiburg

publication of my own poems: 1991-99 in unique examples of portfolios made by painter sabine/bison gensch as book: 'bekanntmachung, 12 frauentexte', feministischer buchverlag, hrg. annette wagner, wiesbaden 2000.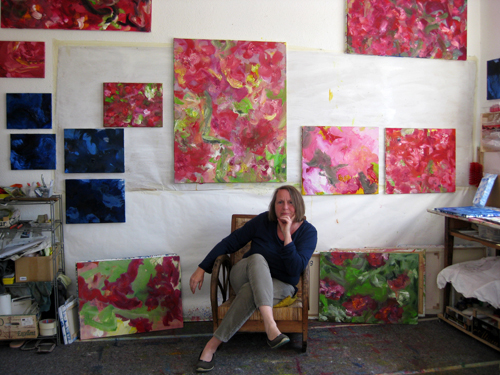 since 2004 PAINTING: 'from inside the body'

studio exhibitions: 'villa mitscherlich', 'reichsgrafenstr.4', freiburg 2004/06

single exhibitions: 'images of bodies', physioteam schätzle, freiburg 2009, 'walking along', la barrique 2010, paris.

group exhibitions: 'regionale 9', kunsthalle basel 2008, bad königshofen 2009, 'open studios' ateliergemeinschaft schützenallee 7, freiburg 2013.

since 2013 studio in 'ateliergemeinschaft schützenallee 7', 79102 freiburg / 'drei' kunstraum aber, freiburg, 2014 / 'offensichtlich 14', freiburg, 2014 / keramikatelier klement, niedernberg, 2015 / mermaid's coat für 'fashion meets art', kunst auf bügeln, modehaus kaiser, freiburg, 2016 / '10 bilder rot', c/o meisterstuecke-aus-holz, freiburg, 2016/ 'offensichtlich16', freiburg / offene Ateliers 17.Dez.2017, freiburg / 'Hitze in Skulptur und Malerei', bbk-galerie im kulturspeicher würzburg, 15.9-14.10.2018 / 'offensichtlich18', freiburg.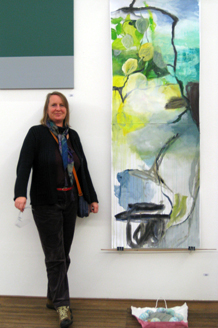 "regionale 9", kunsthalle basel, 2008